David's Infinite Love™ Pendant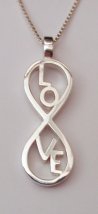 David's Infinite Love™ pendant is a symbol of infinite love, which is unconditional and mutual in nature. It was designed by David Durand and was custom made with love. The piece is approximately 1 7/16" long and 7/16" wide and is made of solid sterling silver as is the chain, so it has a nice "feel" to it. Wearing this pendant serves as a gentle reminder to remain "present" throughout the day and allow love to flow from you. Anyone glancing at it will appreciate your intention to love and be loved unconditionally.


NOTES:
SHIPPING: Shipped at no charge to anywhere in the United States by Priority 2 day mail. If you would like it shipped elsewhere, please contact us using the "Contact Me" button on the upper left and give us the shipping address. I will then email you back the price.

TAX:
Florida residents only. The 7% tax applied will show on your invoice.


PRICE: The price is $79.00 USD including shipping (US only). Shipment within the US is included in the final price. Shipment outside the US requires special arrangements (see above). You do not have to have a PayPal account to order - just a credit card or you can mail me a check. You can review your order prior to authorizing it.
Silver Pendant
Non-Florida US Residents
Silver Pendant
Florida Residents
(shows FL sales tax and shipping)




Also available now in 14 carat gold! Please contact me via the "Contact Me" Button to upper left if interested. There are only 5 silver and 3 gold pendants available. That is it for now. Once they are gone, orders will be taken on a waiting list as the pendants are custom made in the United States.



© 2011-2014 Universal Ideas, LLC All rights reserved.